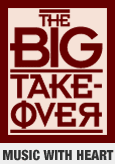 One of NYC's most esteemed musical institutions, fanzine-gone-legit The Big Takeover recently celebrated its 25th year of publication. While not exactly a birthday party, BT founder Jack Rabid has organized a nice party tomorrow afternoon at Fix Cafe (attached to the back of SoundFix Records, Bedford @ North 11th) in Williamsburg. If you were into the indie/alt scene at all in the '90s, you're bound to be excited by at least one of the performers:
1:15 PM: Mitch Friedland, singer of Springhouse (for whom Rabid plays drums). Springhouse were one of the best American shoegaze-y bands of the early '90s who recently reformed and are recording new material.
2:15 PM: Martin Carr, former guitarist and songwriter for The Boo Radleys, one of the best UK bands of the 1990s. (1994's Giant Steps is a classic.) Since that band's dissolution, Carr recorded under the name Bravecaptain, before recently daring to go solo. The Boos barely toured the US so this is a real treat. (Carr also plays tomorrow night at Union Hall.)
3:30 PM: Don McGlashan fronted the Muttonbirds, one of the most beloved New Zealand bands of the 1990s. I will admit that they completely flew under my radar, but Jack is super excited and McGlashan's new solo album was his #2 pick in the new issue of BT. This is his only North American date, so if you have any interest at all, don't miss it.
Jack Rabid has more on the event over at the fabulous Big Takeover website.
Unrelated to the Big Takeover shindig, but a nice bit of happenstance, Scritti Politti frontman Green Gartside is performing a free show immediately afterwards — at 5PM. Their new album, White Bread, Black Beer, has been racking up the accolades, including a Mercury Prize nomination. So stay all day. And if you get hungry afterward (or during), I have some suggestions for where to go.